Pure Politics, Local and National News
FBI Agents Raid Jeffrey Epstein's 'Pedophile Island,' Video Shows
BY ZACHARY STIEBER
FBI agents raided Jeffrey Epstein's private island in the Caribbean on Aug. 12, gathering evidence from the luxurious compound on Little St. James in the U.S. Virgin Islands.
The raid came two days after Epstein was found unresponsive in his jail cell in New York City. The 66-year-old, who was arrested on sex trafficking charges last month, was rushed to a nearby hospital but was pronounced dead.
The Bureau of Prisons called it "an apparent suicide" and Attorney General William Barr promised a thorough investigation into the jail's "failure to adequately secure" Epstein, one of the highest-profile inmates in America. The FBI and Office of the Inspector General were already probing the case, Barr said Monday.
Zachary Stieber@ZackStieberReplying to @ZackStieber
NEW: FBI agents raid Jeffrey Epstein's Caribbean island, known by some locals as "pedophile island," video footage shows. 1044:37 PM – Aug 12, 2019
Around the time Barr made his comments, at an event in Louisiana, FBI agents were seen raiding Epstein's island—known by locals as "pedophile island"—in video footage obtained and published by the Daily Mail and ABC.
The footage showed FBI agents taking speedboats to the pier on the island before moving around on golf carts to the main house and other structures on the property.
At least 12 agents were seen on the island.
A witness told the Mail: "I'm on a boat charter with guests. We are the only guests out here at the moment. We were enjoying lunch when we saw over a dozen people getting off their speedboats and landing on the island."
"When we looked harder, we could see the FBI logo on the backs of their shirts. It didn't take long for us to realize they must be conducting a raid on Epstein's house," the witness added.
The island is allegedly the nexus of Epstein's international sex trafficking ring, which included girls as young as age 14, and was purchased by the financier more than 20 years ago. Spanning approximately 75 acres, the amenities included a Japanese bathhouse, a movie theater, an outdoor pool, and a mysterious temple.
Epstein was believed to be primarily based on the island and even traveled there multiple times throughout 2010 despite being under house arrest, reported the Palm Beach Daily News.
Former president Bill Clinton was on the island at one point, according to Virginia Roberts, one of the women who accused Epstein of molesting her when she was a minor. She said she did not see Clinton having sex with anyone.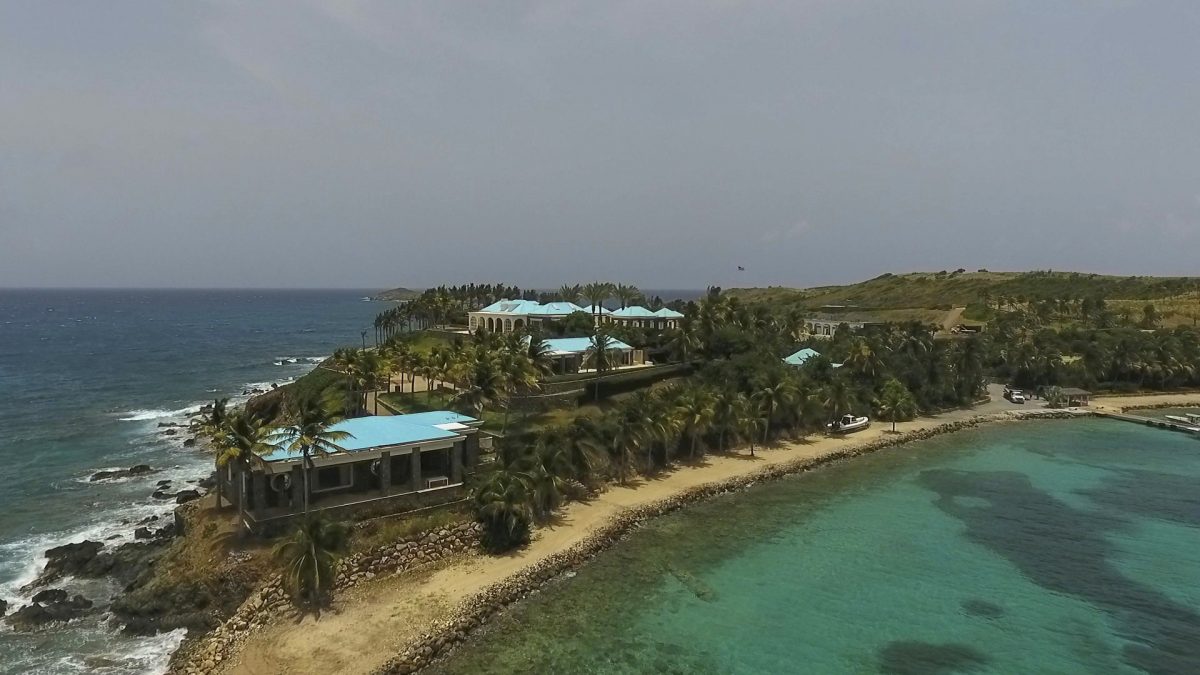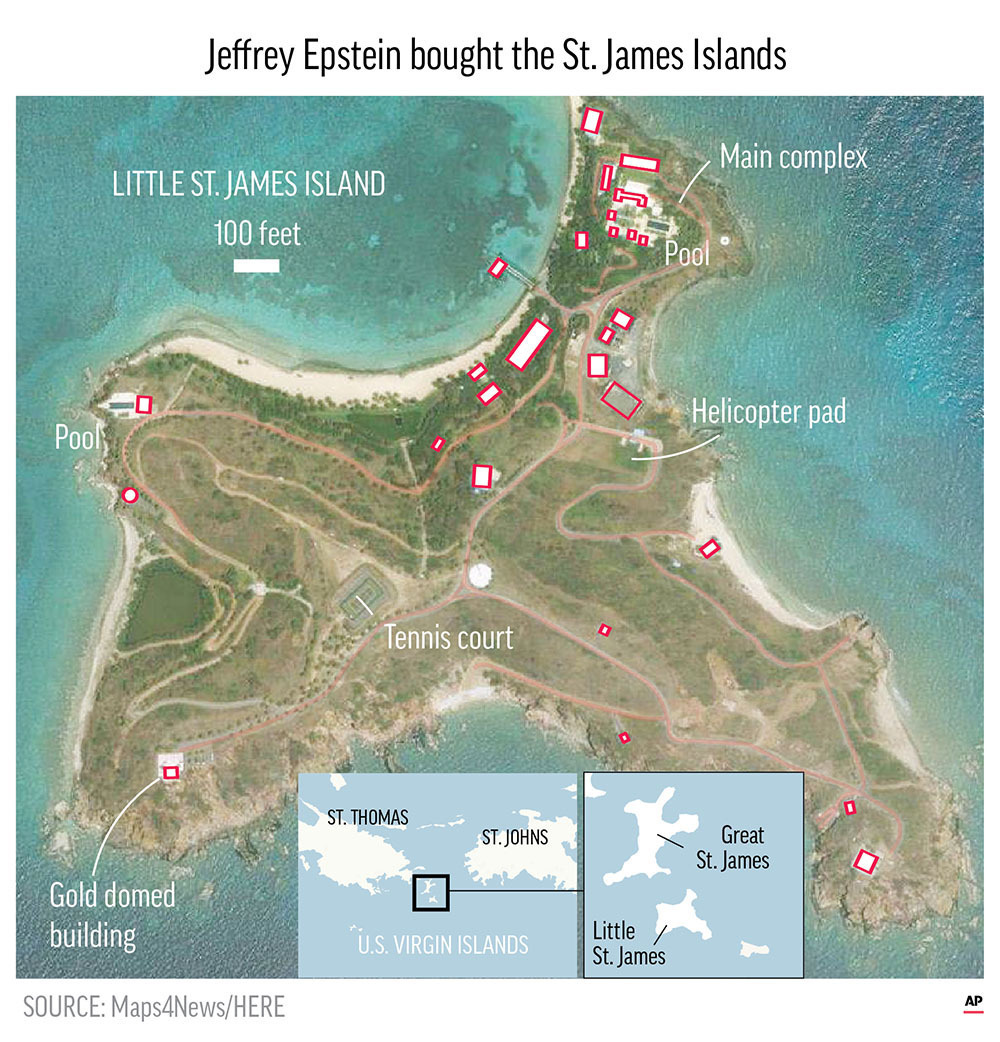 "I remember asking Jeffrey, 'What's Bill Clinton doing here?' kind of thing and he laughed it off and said, 'Well, he owes me a favor,'" Roberts claimed.
Virginia Giuffre, who said she was one of Epstein's sex slaves, said in 2016 that Epstein's partner Ghislaine Maxwell told her once that she took Clinton there on a helicopter." Maxwell was the one who told me about that; that she's the one who flew Bill," Giuffre said in court documents that were unsealed recently.
Clinton has denied being on the island, though he admitted being on Epstein's plane multiple times.
The raid came as Barr, the attorney general, promised that the investigation into Epstein's alleged crimes would continue.
"This case was very important to the Department. It was important to the dedicated prosecutors and agents who investigated the case and were preparing it for trial. Most importantly, this case was important to the victims who had the courage to come forward and deserved the opportunity to confront the accused in court," Barr said.
"Let me assure you that this case will continue on against anyone who was complicit with Epstein. Any co-conspirators should not rest easy. The victims deserve justice, and we will ensure they get it."
NH Politician - Advertise With Us
Primary Sidebar - Low
$
2500
/ MO billed in three month increments
Billed annually or $2500/MO billed in three month increments.
Primary Sidebar - Mid
$
2750
/ MO billed in three month increments
Billed annually or $2750/MO billed in three month increments.
Primary Sidebar - Top
$
3000
/ MO billed in three month increments
Billed annually or $3000/MO billed in three month increments.
Search

Local Weather

41°

Partly Cloudy

06:2216:31 EST

Feels like: 36°F
Wind: 8mph W
Humidity: 54%
Pressure: 30.15"Hg
UV index: 0

min 33°F
51/43°F
57/37°F


TRUMP 2020

Rush

Hannity

iHeart Radio

ROLEX

Judicial Watch Election Integrity Project

Build The Wall

Betsy Ross Flag Shirt

Advertise With Us

Senate Impeachment Vote

Abuse of Constitutional Power

Presidential Approval Poll

Presidential Poll

Congressional Job Approval Poll

US House Approval Poll

US Senate Approval Poll

Categories

Archives

Tweets

NH Politician
@NHPolitician