Pure Politics, Local and National News
Heat Wave to Hit Much of the US With the Hottest Temperatures in Years
BY JACK PHILLIPS
A heatwave is slated to impact much of the United States in the coming days, affecting an estimated 100 million people in parts of the eastern and central portions of the country.
"Over the next few days, there will be little relief at night as low temperatures in many places, particularly cities along the I-95 corridor, will struggle to see lows dip below 80 degrees at the height of the heatwave, which will bring the hottest weather in years," AccuWeather said on July 19.
The heat will be combined with severe humidity that will last through Saturday in the Midwest and through Sunday in the Northeast, the private weather forecaster said.
Look at the impressive and widespread coverage of heat related warnings and advisories across the Eastern two-thirds of the country. The hazy, hot and humid conditions will persist through the weekend. Be smart and stay cool!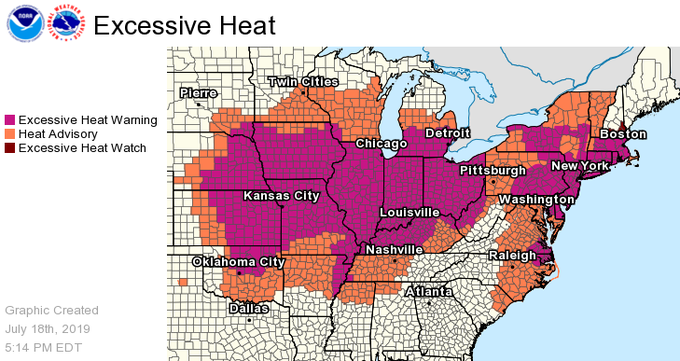 The U.S. National Weather Service (NWS) noted on Twitter that there were a bevy heat-related warnings and advisories sent out by local offices across the eastern two-thirds of the country.
The conditions were described as "hazy, hot, and humid."
In explaining the weather pattern, the NWS said that a "large ridge of high pressure extending from the Central to Eastern U.S. will deliver a dangerous summer heatwave through the weekend."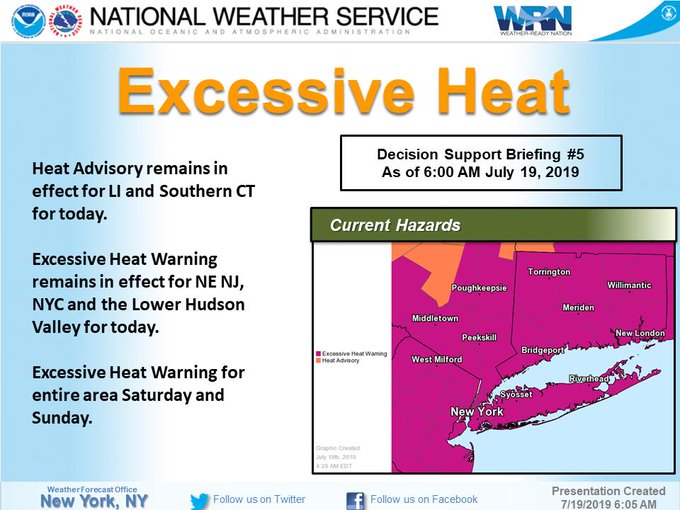 "A number of record highs and overnight warm minimum temperatures are likely. Heat indices will surge past 100 degrees and approach the 110s" in Fahrenheit, the agency continued.
Temperatures of around 100 degrees are possible in Washington, Philadelphia, Baltimore, Chicago, New York City, Kansas City, St. Louis, Detroit, Minneapolis, and Cincinnati.
The Weather Channel✔@weatherchannel
A dangerous heat wave is expected from the Plains to the Northeast to end this week. This heat could be deadly in a few spots.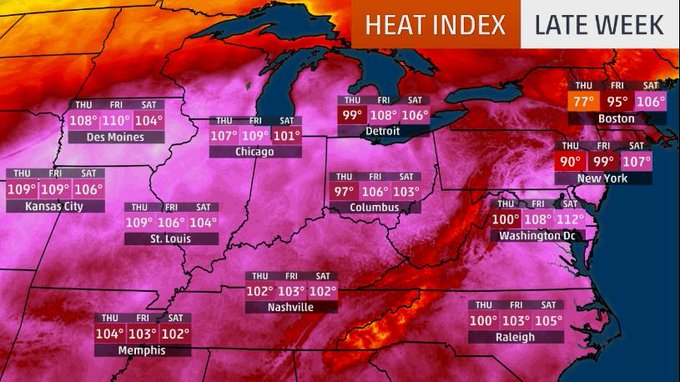 "For a time, it may feel just as hot in Washington, D.C., as Death Valley, California. While the actual temperature may be higher in Death Valley, when compared to the nation's capital, humidity levels near the Chesapeake Bay will be substantially higher than that of the deserts," AccuWeather explained.
In New York, Mayor Bill de Blasio ordered tall office buildings to turn up their thermostats to 78 degrees amid the heatwave so as to avoid straining the power grid.
The Weather Channel✔@weatherchannel
An outbreak of severe t-storms, including the threat of tornadoes and widespread damaging winds, possible today and tonight in the upper Midwest.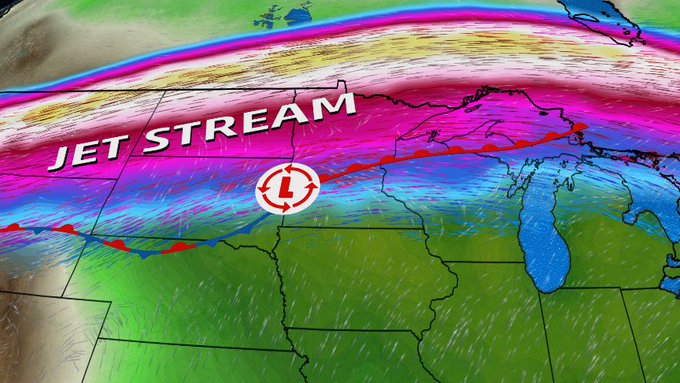 "We are about to enter a heat emergency, and must do all we can to keep New Yorkers safe," said Mayor de Blasio, reported the New York Post. "The City government is limiting its energy use to reduce strain on the electrical grid, and now private office buildings will also have to do their part."
To complicate things, the Midwest is bracing for potential tornadoes amid the scorching temperatures. Two tornadoes were already reported Thursday in South Dakota, ABC News reported.
Search

Local Weather

41°

Partly Cloudy

06:2216:31 EST

Feels like: 36°F
Wind: 8mph W
Humidity: 54%
Pressure: 30.15"Hg
UV index: 0

min 33°F
51/43°F
57/37°F


TRUMP 2020

Rush

Hannity

iHeart Radio

Judicial Watch Election Integrity Project

Build The Wall

Betsy Ross Flag Shirt

Advertise With Us

Senate Impeachment Vote

Abuse of Constitutional Power

Presidential Approval Poll

Presidential Poll

Congressional Job Approval Poll

Categories

Archives